10 Most Important SEO Ranking Factors in 2021
Were you aware that Google uses more than 200 SEO ranking factors? Google is, without a doubt, the most widely used search engine on the planet. Google outnumbers rival search engines such as Bing and Yahoo, with about 5.14 billion searches every day.
Understandably, you'd want to appear higher in Google search results. However, because SEO (search engine optimization) changes frequently, it can be difficult to adapt and keep up with all of the changes. Nevertheless, with the correct knowledge and direction of using SEO ranking factors, achieving your desired rank is not difficult.
So, you might be wondering why SEO ranking factors are so crucial to your website's success.?
The answer is: You might not obtain any traffic from the search engines if you can't get your website accessible on the first page of relevant keyword searches, which is unquestionably accomplished by utilizing these SEO elements.
But then there's the question of how to get to the top of SERPs. Well, It won't take long for you to outrank your competition or even "Rank one" if you follow best SEO practices. Before delving too far into the subject, first, let's have a look at the advantages of ranking high in the search engine results pages (SERPS).
The advantages of being at the top of Google's SERPs
1. An Increased Number of Business Opportunities
When someone searches for a certain term, Google returns 10 results on the first page. The outcomes are based on various metrics, including site speed, backlinks, bounce rate, and a variety of others.
As a result, if you can get to the top of the first page of Google results, it might be an excellent chance for you and your company.
2. The Top Position Attracts More Visitors
According to Bing, one of the biggest search engines after Google, the top websites receive 42% of traffic, the ones which come second get 11%, and the third get only 8%. As a result, it is evident why your websites must be at the top.
The situation is much the same with other search engines, such as Google. If your website rises to the top, it will get greater credibility and trust, both of which are important factors in attracting more leads and traffic and eventually it results in the enhanced E-A-T score of your website.
3. Enhances the credibility of a company
An increase in SERP (search engine results page) rankings not only improves your company's capacity to generate traffic and leads but also improves your audience's perception of your company's authenticity.
And All of this is possible if we concentrate on a few key SEO ranking elements. Although Google's current ranking algorithm uses hundreds of SEO ranking factors, we have laid down the top ten most essential ones that should be kept in mind in 2021 and beyond.
10 crucial SEO ranking factors that must be understood and implemented.
1. Site Security Certificate
A site security certificate is one of the important SEO ranking factors that improve the authenticity of your site. Google has advised website owners to move from HTTP to HTTPS since roughly 2014. And that is why you should make sure your site is now using HTTPS, which encrypts data between your website and the browser of your users.
Both HTTP and HTTPS are basic protocols that allow us to send and receive information in the form of a website, but HTTPS (with the 'S' standing for 'Secure') was created to add an extra degree of protection by securely transferring data using an SSL (Secure Sockets Layer) certificate.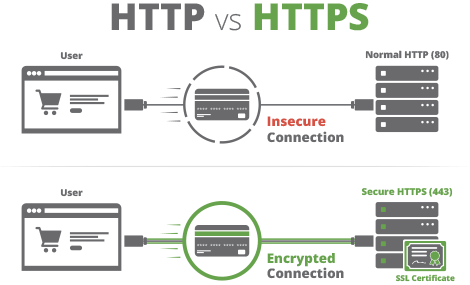 While switching to HTTPS will not directly improve your site's SERP rating, remaining on HTTP may result in your site being demoted. In fact, if you use the Chrome browser and try to access a site that uses HTTP, Google will issue a "Not Secure" warning, which will drastically reduce your bounce rate.
Upgrading your site from HTTP to HTTPS, if you haven't previously, is now quite simple:
Get an SSL certificate; most prominent hosting firms today provide free SSL certificates. If not, it is now incredibly reasonable, costing as little as $5 per year.
If you haven't previously, instal the SSL certificate on your hosting account.
Check all inbound and outgoing connections after the transfer; URLs that have not been updated from HTTP to HTTPS may break.
Create 301 redirects to your new HTTPS URLs from your old HTTP URLs. This is to ensure that everyone who has bookmarked your site will be instantly forwarded to the new location, as well as to assist Google in indexing your site.
2. Mobile-Friendly Site
It's no secret that Google has prioritized mobile-friendly sites on their SERPs since roughly 2015. To boost your SEO results, make sure your site is mobile-friendly or mobile-responsive.
Fortunately, implementing this SEO ranking factor and building a mobile-responsive website is now easier than ever. If you design your site with a visual website builder like Wix or Squarespace, it will almost certainly be mobile-responsive right out of the box. If you're using WordPress, simply switch to a mobile-responsive theme; many of them are now available for free.
Also, pay close attention to what you're expressing. If your site's mobile version differs from the desktop version (mobile-friendly instead of mobile-responsive). Compare the material on the mobile version to the content on the desktop version. You'll want to make sure that the volume and quality of content in both versions are comparable.
3. Search Intent
Matching the search intent of your content is another important SEO ranking factor for Google. What a person is looking for is referred to as search intent. On Google, each keyword is unique, and you must understand why that particular search query exists.
It's critical to match the search intent and develop the proper type of content if you're going to create material on either of these topics. Now, search intent may differ depending on the structure and style of the material. For example, in some circumstances, Google's top results will only show videos and infographics. This suggests that if you want to rank for certain keywords, you should make a video or an infographic.
Are they seeking basic information on your items, a tutorial such as a " how-to" article, or are they at the end of the process and ready to buy?
By incorporating this SEO ranking factor, You can answer these questions and provide information that people want by matching the search intent.
3. Page Load Speed
Another thing to consider among the 200 Google SEO ranking factors is the speed of your pages. Because, beginning in May 2021, Google will include page loading speed in its Core Web Vitals.
Page speed is the time it takes to fully display all content on a single page, as opposed to 'site speed,' which is the time it takes to get the first byte of data from the server, and 'time to first byte,' which is the time it takes to receive the first byte of data from the server.
The goal here isn't to beat your competitors' load times by milliseconds. However, you should keep track of how quickly a page loads for your visitors. Google wants your website to load quickly and give your visitors a pleasant experience.
According to Google, if your page takes longer than 3 seconds to open, 50% of users will leave, and bounce rate is a key ranking element. You can use Google's PageSpeed Insights to track your page speed and make improvements based on the recommendations and implement this SEO ranking factor.
4. Technical SEO Factors
Technical SEO Factors is a composite of various technological on-site parameters, including but not limited to:
Incorporating a target keyword into page headers and headings. The usual practice is to include your focus keyword in your title as early as possible. This is where Google begins to index your material in order to identify its context and relevance.
A META description that is both natural and appealing to human readers while also incorporating the target keywords. Keep the META description brief and to the point.
Using header tags (H1, H2, H3, etc.) to correctly format the text, allows for easier Google indexing and improved readability.
Include relevant keywords in picture alt tags to indicate to Google that the images are relevant to the text. This can also assist visually challenged users with accessibility.
Use structured data (schema.org) markup so that Google can properly understand all of your site's elements. Your page will also be eligible for rich/featured snippets if you use schema markup.
5. Quality, length, and optimization of content
This is a complicated topic, but the general rule to remember is that your SEO performance will be limited by the quality of your content. If your content is low-quality and irrelevant to your target audience, no amount of optimization will assist. Hence this SEO ranking factor is important to consider.
So, how does Google define content quality?
Content that is original, unique, and valuable is considered optimum.
This is especially true now that Google has introduced the BERT algorithm, which allows Google to better grasp the context of a page better. So, how can we determine whether or not a piece of material is of good quality? While this is a large topic, the following are some general considerations:
Whether or not the content is current and up-to-date
Whether the material matches the search intent of the target audience
'Voted' in the form of backlinks by other high-quality sites (more on this later)
Several social engagements (shares, likes, etc.) were received, although social signals are not a direct ranking factor.
The question, of whether the length of the content matters has constantly been a topic of discussion. According to many surveys and results, longer content performs better in SEO content marketing strategy, with content above 2,000 words receiving more top 10 spots in the SERP.
It isn't, however, a one-size-fits-all solution. Don't force it if the topic you're covering doesn't necessitate lengthy content. Maintaining quality over a longer piece of content is obviously more difficult, so keep that in mind.
6. Link Profile
A link profile is another SEO ranking factor that acts crucially and needs to be implemented. Backlinks are particularly significant, although internal connecting structure and outgoing (external) linkages are also crucial.
The anchor text for all three sorts of links is frequently the same, and the context between the linked page and the anchor text is also taken into account.
Inbound links/backlinks
Backlinks are similar to the internet's "vote system." When a website connects to your page, it's implying that you're a reliable source. Backlinks have always been and continue to be the most important ranking element in SEO. It is how the Google crawler finds your website for indexing and is a crucial aspect of Google's ranking algorithm.
In fact, content and backlinks are inextricably linked, as webpages with no backlinks receive very little organic traffic.
So, how significant are backlinks for your site's SEO?
Inbound links, also known as backlinks, are a type of vote of confidence for your website. Google adds up all of the votes and determines whether your website is deserving of a spot in the top ten rankings.
You can improve your chances of higher ranks by obtaining backlinks from high-authority websites. That's because by obtaining these links, you're signalling to Google that your material is reliable. After all, several websites have endorsed it.
Outbound Links
It's also crucial to use natural outbound/external links to sites that are related to your content. This can indicate to Google that you are conducting the content study.
Internal links
Indexing can be greatly aided by the internal connection structure. It will inform Google about your site's overall structure and will also transfer some authority between pages. It will also assist your site visitors in locating the information they require, resulting in a better user experience (UX), another SEO ranking factor.
7. User Experience (UX) Factor
Google can now monitor user experience, another SEO ranking factor in real-time, and utilize the information to rank websites according to Google Rankbrain, Google's AI-based system.
Google focuses on three UX SEO ranking factors:
Bounce rate: the proportion of individuals who click on a SERP result and then immediately leave the page. If the number is large, it means your page isn't related to the search query and will likely be demoted in the SERP.
Dwell time: similar to bounce rate, dwell time is the amount of time a visitor spends on your site after clicking on a SERP result and visiting it. The more time you have, the better.
Click-through rate: The percentage of users who visit your site after clicking on a SERP result is very self-explanatory. If it's too low, you may be demoted.
People can only see a snippet of your page when seeing the SERP result, and your snippet is derived from the META description of the page. As a result, make sure your META description is as appealing to human readers as possible. Also, make sure it's relevant to the keyword you're targeting.
Dwell time and bounce rate are influenced by a variety of SEO ranking factors, as stated above. However, the two most essential elements are the quality of your content and how well your site performs.
8. Domain Age, Authority, and URL Optimization
More than half of the websites on the first page of SERP are three years old or older, with only a handful of sites less than a year old ranking in the top 10 rankings. Domain age, authority, and URL optimization serve as crucial SEO ranking factors.
However, you should not be discouraged because ranking is not impossible, even if your site is brand new. However, the truth remains that having an older site gives you an edge.
If your website is relevant and beneficial to the target phrase, exact-match domain names (domain names that include the target keyword in the URL) can help you rank. Keep in mind that Google has said that irrelevant exact-match domain names would be penalized.
The website's authority is also important, as Google's E-A-T (Expertise, Authoritativeness, and Trustworthiness) concept explains. That is, content from a well-known website is prioritized for ranking over information from a brand-new website.
While there isn't much you can do about this if you're a new content creator, optimizing your site from the beginning can benefit you in the long run. You can stay ahead of the competition if your site has 'matured' as a well-optimized website with the constant publication of high-quality material.
9. Website Structure
Another thing to consider as the SEO ranking factor is the structure of your website, especially if you're just getting started.
From a crawling and indexing standpoint, the architecture of your website is critical. It makes it simple for Google crawlers to find your website and its pages.
You can also start by establishing a sitemap in WordPress to improve the site's structure. A sitemap lists all of the important pages that the search engine should be aware of.
It makes it easier for Google's crawler to explore your website, find new information, and index your pages.
10. Authentic Business Information
This is especially true in the case of local SEO. Including your company's details on your website, that is an important SEO ranking factor. On the other hand, it can boost your site's credibility and authority.
It's critical to incorporate and optimize items such as:
NAP stands for "name, address, and telephone number." Make sure you're using accurate data.
Include a link to your social media accounts
The Google My Business listing for your company (if you are a local business)
Client and consumer testimonials and/or reviews. You may use Yelp and even Google Maps to get reviews.
Conclusion
Remember that these 10 SEO ranking factors aren't the only ones that will affect your site's SEO performance in 2021 and beyond. They are, nonetheless, the most crucial at this time.
Beyond everything, produce high-quality, relevant content, engage with a B2B SEO professional to establish an SEO plan, and make sure your site performs well in the eyes of both human visitors (user experience, site speed, mobile-friendliness) and Google (indexability, keyword optimization, etc. ).
Related Frequently Asked Questions(FAQs)
How does my website rank on google in 2021?
Step 1: Improve your on-site SEO.
Step 2: Incorporate LSI Keywords Into Your Content.
Step 3: Keep an eye on your technical SEO.
Step 4: Align Your Content with the Intent of the Search.
Step 5: Lower bounce rate.
Step 6: Make a list of keywords to target.
Step 7: Create Exceptionally High-Quality Content.
What are On-Page SEO techniques?
The method of optimizing web page content for search engines and visitors is known as on-page SEO (sometimes known as "on-site SEO"). Title tags, content, internal links, and URLs are all common on-page SEO techniques.
This is distinct from off-page SEO, which focuses on signals that occur outside of your website (for example, backlinks).
How is SEO ranking calculated for a website?
To evaluate SEO Results and Performance, you can use the following ways.
1. Organic traffic
2. Ranking of keywords.
3. Visibility in the SERPs.
4. CTR (Click-Through-Rate)
5. Bounce Rate
6. The Authority of a Website Over Time
7. Backlinks.
8. Page loading time.